Ladies and Gentlemen…take a racing form from the lovely hostess…stroll over to the crab paddock…check out the crab competitors…remember the name and number of your favorite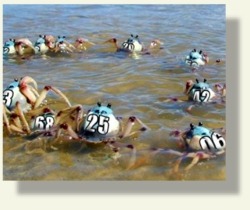 crustacean…maybe "Kaneohe Killer Krab", "Sweet Leilani Crab" or "Willie K. Krab"…check out the odds for the next race on the giant "Crab Scoreboard"…have some refreshments and snacks or maybe just relax and enjoy the background Hawaiian music.
But be prepared (at the sound of the live trumpeter) to place your bets at the Chi Chi Betting Booth, because "The Great Hawaiian Crab Races" are about to begin…complete with six "racing" crabs direct from the Beach at Waimanalo, a Hawaii Crab Commission Certified Race Track.
Our Track announcer, Track Steward and "Official Starter" (with Video Camera in case of a "Photo Finish") will be on hand for six races in all…providing lots of fun and excitement. At the conclusion of the races, our Auctioneer will entice and assist with spending your "Crab Bucks" on some great prizes.
The Great Hawaiian Crab Races…you won't believe it…