The experience of the Maui Ocean Center is like walking into the ocean at the beach, and traveling deeper and further into the ocean as you pass through each area, while learning about the beautiful and fascinating creatures that live in its depths. As an exclusive event, the Ocean Center provides an unforgettable oceanfront evening.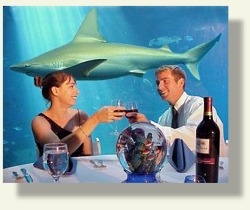 Our guests enter through a pavilion dressed with Robert Lynn Nelson's specially commissioned oil painting, "Molokini Twilight," overhung with a chandelier of crystal fishes. Just inside the entry plaza, you'll discover a courtyard with breathtaking ocean views. Hawaiian music wafts on the breeze as you are greeted with fresh flower leis, traditional mai tais and tropical fruit punch. A photographer snaps pictures to be inserted into frames decorated with ocean creatures and returned as a keepsake at the programs end. (Other photo options include digitally "swimming with the sharks.")
The Ocean Center's exhibits are open to your guests, and naturalists are stationed around the Center to answer questions and assist as needed. Uniformed banquet staff pass canapes as you tour The Living Reef. A series of outdoor exhibit pools including green sea turtles, spotted eagle rays, and a touch pool overlook the ocean.
As you continue to explore this underwater wonderland, you'll find the dolphin sculpture and waterfall wall entrance to the Open Ocean building. Inside, an arcade of fun and interactive displays in the Whale Discovery Center depict the life of the humpback whale as you are invited to "play with the toys." Finally, you'll come to the centerpiece of the Maui Ocean Center – the Underwater Journey. This 54-foot acrylic tunnel traverses the center of a three-quarter-million gallon aquarium tank filled with sharks and other fish that are found in the open ocean. Inside the tank, a diver holds a custom-made sign welcoming your guests. With approximately 5 feet of water both above and below you as you walk through the tunnel, you are surrounded by a 240-degree underwater view.
Exiting the Underwater Journey, our guests are directed to the Seascape Restaurant, where dinner awaits. Hawaiian entertainment is backed by the moonlight on a panoramic ocean view, and dinner tables are set near the "Edge of the Reef" display, where colorful fish and fascinating reef sharks present an ever-shifting backdrop. The restaurant's trompe l'oeil ceilings depicting moonlight shimmering down through the ocean's waters are complemented by exotic tropical florals which seem to grow and float above color coordinated linens.