Sizzle" is Definitely the Password for Entry!
The guests "slide" into the festivities on a curved neon sliding board, past giant black flittered pillars adorned with neon sabers and fluorescent painted tropical florals, right under a multi colored neon overhead "Neon Nights" sign, smack into a giant neon art deco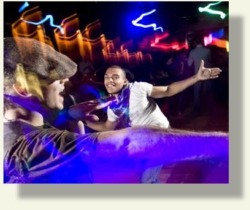 sculpture.
The ballroom is a mist of fog with black velour drapes, hanging chase lighted sculptures, black flittered pillars, neon sabers, strobe lighted bar facades, and neon "Go Go" cages!!
The stage is decorated with a 32' fiber optic curtain that twinkles with alternating, brilliant colors; 2 (12'H) black flittered pillars topped with neon, and an unforgettable, truly magnificent black, double tiered, 20' wide theatrical staircase.
Each table is decorated with a black linen underlay and a neon colored overlay, black chair covers & ties, plus a distinctive neon sculpture centerpiece with fluorescent tropical flowers.
"The Neon Dance Party" goes over the top with "Beautiful" Female and "Hunky" Male Dancers in the "Go Go" cages, Indoor Fireworks, a Balloon Explosion and a Great Dance Band.era. Our evening will continue with a wonderful served meal and dancing until the wee hours.