As guests arrive in the hotel lobby for departure, the ladies will select a single long stem rose of their choice, which will determine the mystery dinner they will attend. Our Mystery Dinners will be staged in various private estates.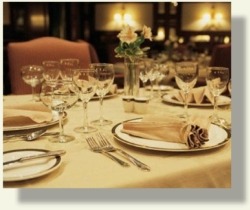 A Celebration of the Pacific
Let's celebrate the passion of the Pacific! Step into the bright colors, the fragrance of our flowers, the aroma from fresh cooked foods and the excitement of our people. Here's a chance to enjoy all the wonderful things one hears about these islands.
The passion, excitement and color of Hawai'i bursts out in these stunningly visual tablescapes. Six foot tall palm trees accentuated with palm fronds swaying with iridescent, opalescent shades of turquoise, pink and hot lime, then arrayed with a luscious bounty of Big Island fruits, herbs and vegetables gathered around the base. Each table is dressed in an alternate color linen, such as marigold, bright pink, aquiline and gold. A sash drapes over each of the chair backs to complete the look.
Meantime, flavors abound as the Chefs cook up a wonderful aroma to tease your taste buds through this evening's adventure!
A very talented and energetic group of eight musicians, including a horn section, rhythm and keyboards, will take our guests from mellow and sultry music all the way up to foot-tapping and get-up-and-dance music that will have the guests celebrating this Paradise of the Pacific like they never have before!