This evening event is beautiful and elegant, combining the elements of glistening water, shimmering stars and vivid tropical florals.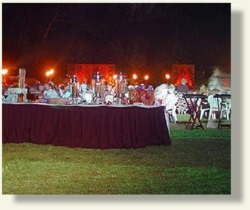 Set against the backdrop of a beautiful Hawai'i evening, our special guests are presented with white orchid corsages and boutonnieres, as the lyrical sounds of the harp serenades. The Royal Hawaiian King's Guard, sharply dressed in their blue, gold and white uniforms with Kitchener helmets and Springfield drill rifles will serve as sentries and escorts, adding a dramatic and colorful touch to our evening. White gloved waiters will circulate passing trays of Hors D'oeuvres and libations from the bar.
After all guests have arrived and are seated for dinner, the King's Guard will demonstrate their talents with a "precision, close-order rifle drill".
Our special evening continues with a small combo performing as guests enjoy a gourmet meal of Hawai'i Regional Cuisine that will tease the appetite and treat the palate. After dinner, a vocalist joins our musicians and woos guests onto the dance floor with mellow, contemporary sounds.
Throughout the evening, astronomers with high-powered telescopes will assist and delight our guests with views of the shimmering stars and planets.
When our evening comes to a close, our guests will stroll leisurely back to their rooms enjoying the glistening water, shimmering stars, vivid tropical florals and realizing that they have just experienced an incredible evening with friends in Paradise.