Oahu is an island with many different faces, everything from big City lights to lush ravines and powerful ocean swells and this day starts with a trip to the windward side of this spectacular island. Kualoa Ranch is a vast estate, a gift from Kamehameha to the descendents who still reside there to this day.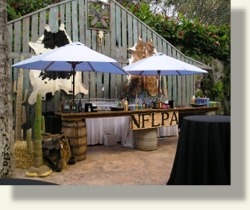 To enjoy the many vistas of this estate, we have laid out five different activities for the Guests to "play with"…Horseback riding, swimming, snorkeling, jet skiing, mountain bike riding and kayaking.
After several hours of frivolity, come and join us for an "Upcountry" hoe-down…Grab yer partner and kick up your heels, as you're in store for a truly fine Hawaiian-style Paniolo Party!
As your guests head towards the "hoe down", they enter through what looks like the back of a giant Chuckwagon, trimmed with white tivoli lights encircling the archway. Hay bails and split rail fence complete the look…We invite our guests to mosey on down (Group Name) Main Street, past the "Panilogo General Store" and the Sheriff's Jail…right on up past (Group Name) Bank. Be aware…rumor has it that a couple of bad boys are in town and have planned a Bank Robbery…just keep out of the way of the bullets and head on over to the "Last Chance Saloon" for a refreshing drink. You'll need one after that little episode. Once you've cooled off, why not head on over to the arena to watch the talented Paniolos ride a bull or rope a calf…or even try your hand at the "Western Arcade" to win a prize for your gal (or guy)! But for a real souvenir, head on over to the "Town" photographer and take home a souvenir photo — just like they took in the good ole' days.
When they sound the triangle, hustle on down to the Chuck Wagon Buffet as our chefs have been busy rustling up some of the best fixins' around…but don't get too full now, 'cause our chefs have been busy concocting their special chili and would like y'all to have just a little taste, not to mention the fiddler's warmin' up, the Can Can Dancers are fluffin' their ruffles and the line dancin's gonna begin right soon…Yee Ha!