The guests depart Waikiki in deluxe mini buses bound for an evening of thrills and excitement. Each bus will have a Kahuna who will weave stories of old Hawai'i and tell the guests about Pele the Goddess of Fire, matron of volcanoes. Our transfer complete, at the end of a verdant valley, our buses begin the trip back into the "crater". As they meander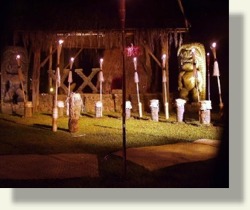 through the ancient volcano bed now a beautiful valley of lush tropical floral and fauna, photo opportunities abound at the Jurassic Park set and other TV and movie production sites.
Thirty minutes after the start of the valley tour, our guests reach the dining plateau. A semicircle of small dining tents, set facing the stage and dance floor, are beautifully enhanced with soft lights and tables set with tropical linen. As guests mingle about while being attended to with appetizers and libations, background music plays as the guests soak up the stunning late afternoon beauty of Hawai'i.
The dinner buffet opens after the sun has left the valley and the real fun begins. The Paradise Sisters hit the stage for raucous dancing and partying into the night. All too soon, the mini buses take our guests back to the reality of Waikiki as they begin to realize this eruptive experience is truly a once-in-a-lifetime evening.