As the Maui sun heads towards Molokai, a quiet excitement begins to build. FORE…it's time for the "(Group Name) Putt Out."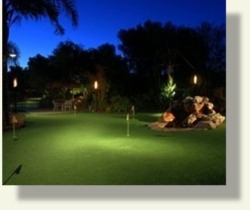 Our players will be shuttled from their hotel to the Plantation Golf Course or the Wailea Golf Course. Upon disembarking, they will receive the required tools for the evening, their putter, ball, scorecard and the all important glass of champagne.
Our "Putt Out" course is magnificent, featuring incredible views of the Pacific Ocean. The famed green has been transformed into five of the most challenging and fun holes in golf. Our special links are enhanced with trees, sand and even a water (watering?) hole.
As our players assemble for the shotgun start, our caddies will circulate passing hors d'oeuvres and libations from the bar. Our club professionals will serve as referees and tutors on the secrets of the course.
All too soon, our players will be escorted to the clubhouse restaurant, where dinner will be served, as stories of triumphs will be told. Our "Putt Out" winners will be announced and presented with their awards after dinner, as we gather in a private room for desserts and Cognac.
When the evening comes to a close, our guests will be shuttled back to their hotel realizing that they have just spent an incredible and memorable evening with friends in paradise.