"Aloha Kakaou Malihinis A Me Kama'ainas…. This is your captain speaking. We are beginning our final approach into the Hawaiian Islands…"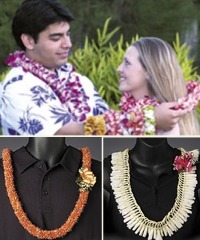 At last, from 30,000 feet, the beautiful Hawaiian Islands come into view. Majestic mountains and lush valleys rise from the warm, turquoise waters of the Pacific, sparkling like jewels in the sun. Hawai'i, a special reward for all of your hard work and dedication.
The big iron bird begins its final descent and you glide gracefully into the most beautiful islands in all the world… Hawai'i. As you disembark, lovely hula maidens and handsome kane are anticipating your arrival, greeting you with a fond "Aloha" and lush tropical flower leis. You begin to stare in wonder at the spectacular scenery unfolding around you and become delightfully aware of the marvelous adventures in store in the days ahead….welcome to paradise!...
Airport Welcome
Our uniformed staff will meet and greet all appropriate flights with professionally produced signs that read "Aloha (Group Name)". As our guests identify themselves, they will be welcomed with a traditional fresh flower lei and directed to a holding area until all guests on the flight have been met. Guests will then be escorted to baggage claim, where they will identify their luggage prior to boarding exclusive transportation to the hotel.
Honolulu Airport Crossfield Assistance
For guests arriving into Honolulu with a connecting flight to a neighbor island, we will arrange for the passengers to be met at their gate and escorted to the upper level of the arrival gate area, where they will board wiki wiki trams, transferring them from the main terminal to the Inter-island terminal. Our staff will also check with each guest to ensure that all luggage has been checked to the correct final destination. In the event of luggage being "short-checked" to Honolulu, the bags will be retrieved from the main terminal luggage claim area and checked through on the next available Inter-island flight.
Airport Services
TWC offers many options for airport services and transfers, based on our clients desired service level, inclusions and budget. We will be pleased to provide an estimated cost summary on request.